Cut It Out Middlesex Program Teaches Students and Salon Professionals How to Recognize Signs of Domestic Violence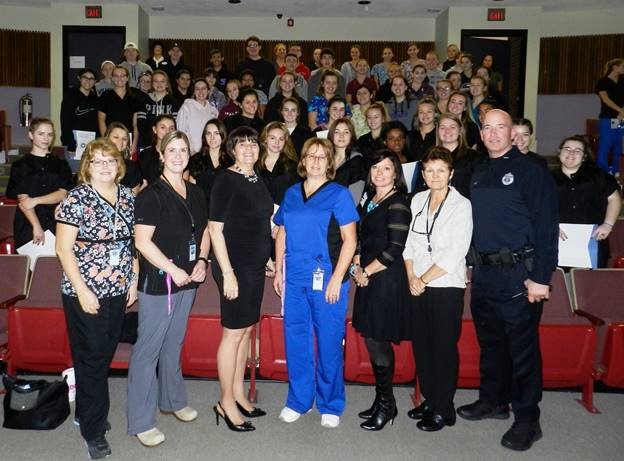 BILLERICA –Middlesex County District Attorney Marian Ryan today hosted a training for cosmetology students at Shawsheen Regional Technical High School as part of her anti-domestic violence initiative Cut It Out Middlesex. The Cut It Out program teaches cosmetology students and salon professionals how to recognize the signs of domestic violence and explains resources available to help victims of abuse.
Today's training was hosted in partnership with the Alternative House, a Lowell based Domestic Violence organization that provides shelter, support, options, counseling and legal advocacy for all victims of domestic violence, and their children who seek help.
Participants in Cut It Out Middlesex learn how to spot signs of domestic violence and how to safely refer clients to local community service providers. The program introduces and aligns participants with domestic violence service agencies as well as domestic violence officers from local police departments. Billerica Police School Resource Officer Brian West was also in attendance for the training.
Cut It Out Middlesex started at local vocational and technical high school training programs to create awareness around the issue of domestic violence at the earliest stage of students' professional development. To date, the program has trained approximately 1,600 cosmetology students and licensed salon professionals across the county.
The Cut It Out program was conceived and first implemented in 2002 in Alabama and has become the national program of the Salons Against Domestic Abuse Fund, which is dedicated to mobilizing salon professionals and others to recognize signs of abuse and to fight the epidemic of domestic violence in communities across the United States.
For more information or to inquire about how to bring Cut It Out Middlesex training to your salon, contact the Office of Middlesex District Attorney Marian Ryan at 781-897-8300.
Meghan Kelly
Director of Communications
Middlesex District Attorney Marian Ryan
Meghan.Kelly@state.ma.us
Office: 781-897-8340
Cell: 857-270-0559