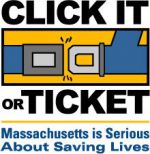 The Billerica Police Department will participate in the national Click it or Ticket campaign next week to promote seat belt use through increased enforcement and education.
Through federal highway safety grant funding, the Executive Office of Public Safety and Security's Highway Safety Division has been successfully implementing the annual "Click It or Ticket" initiative since 2002. Over the past 12 years, Click It or Ticket initiatives have helped increase safety belt usage in Massachusetts from 51% in 2002 to 77% in 2014. During the same period, fatalities involving non-restrained (belted) vehicle occupants dropped significantly from 57% of crash fatalities to 28%.
Billerica is one of approximately 200 local police departments in Massachusetts, along with the Massachusetts State Police, to participate in the high-visibility mobilization.
Massachusetts law requires all occupants to be properly restrained by safety belts when riding in a private passenger motor vehicle, including vans and trucks.