Suspect Arrested For Burglary – Stolen Firearm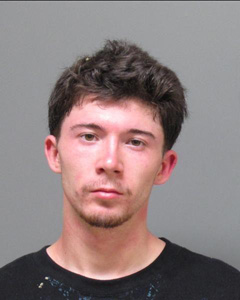 Billerica – On Tuesday, July 3, 2012, at approximately 1:30 PM, Billerica Police responded to the area of Kenmar Drive Apartments for a past burglary involving the theft of a firearm. Upon arriving in the area of the reported incident, Officer Scott Parker observed an individual walking from the area of the scene. The individual was observed to be carrying an item, which was initially believed to be a firearm. Immediately upon seeing the marked police cruiser, the individual covered his face and ran from the scene. This individual, who was subsequently identified as James Robinson, 21, of Billerica, failed to stop for the officer and a foot pursuit ensued. Officer Parker and back up officers secured a perimeter around the area that Robinson had fled, which included a densely wooded area separating Kenmar Drive and Innis Drive. Within approximately thirty minutes Robinson was located and apprehended after a brief struggle. Nobody was seriously injured in the arrest. A subsequent search of the area resulted in the discovery of a  rifle and ammunition located in a wooded area in close proximity from where Robinson had fled.
Following a thorough investigation of the incident, Robinson was charged with numerous crimes related to the break. These charged include Breaking and Entry Daytime with Intent to Commit a Felony, Larceny of a Firearm, Unlawful Possession of a Firearm, Resisting Arrest, and Possession of Bulgarious Tools. Robinson was held without bail and will be arraigned in Lowell District Court on Thursday, July 5, 2012.
Any additional questions should be directed to Lieutenant Roy Frost, 978-667-1212 x120