The Front Line Initiative regional police co-response program secures funding for the launch of an Animal Assisted Co-Response Program
Therapy Dog to respond with Co-Response Clinician alongside police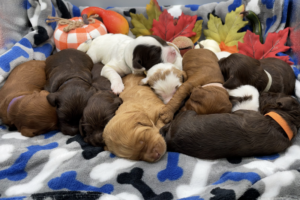 Billerica MA – The Front Line Initiative today announced it has secured funding through the Greater Lowell Health Alliance to launch a unique Animal Assisted Co-Response (AACoR) Program. The AACoR program will pair a mental health Co-Response clinician with a trained crisis response dog that can be called out by five area police departments including: Tewksbury, Billerica, Chelmsford, Dracut and Tyngsborough. The AACoR Program will be utilized to focus on behavioral health crises with a focus on those struggling with traumatic events, depression, and impacts of suicide. While the use of comfort dogs and therapy dogs are not new what makes this program unique is the embedded nature of a police co-response clinician with a crisis response animal.
The future therapy dog will be an Australian Labradoodle and will join the team in late November early December. They will begin their time in service in training thanks to the generous support of Auntie Dog in Tewksbury, MA.
"We are extremely excited to bring this additional therapeutic service to the communities we serve. The addition of the AACoR program will assist in bridging the gap of access to emergency services for those living through traumatic events. We believe in bringing innovative programming to the Greater Lowell area and we are pleased to be pioneering the way with the help of the Greater Lowell Health Alliance," said Front Line Executive Director Matthew Page-Shelton.
The funding will be used to cover the costs associated with the launch of the Animal Assisted Co-Response Program and the implementation of the services to be provided by this team. Front Line is excited to partner with Highland Beach Labradoodle from Central Rhode Island for the future therapy dog.
"It is such a unique opportunity to be a part of a team where the innovative use of a crisis response dog can be possible in this context. I look forward to working with our therapy dog and conducting training to prepare for supporting our communities. This is a great opportunity to build partnerships with those in our communities who are in crisis. I look forward to bringing this service to those we serve in both an emergency basis as well as through outreach therapeutic support," says Co-Response Clinician/ AACoR handler C.Knowles of Front Line Initiative.
Follow the Front Line Initiative on Facebook, Instagram, and Twitter for updates on the AACoR program and more.