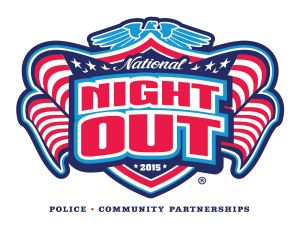 The Town of Billerica Police department will be hosting its annual National Night Out event on Tuesday August 4, 2015 from 6-9 pm.  The Town would like to invite everyone to come join us in the Billerica Town Common.
National Night Out is designed to: (1) Heighten crime and drug prevention awareness;  (2) Generate support for, and participation in local anti-crime efforts;  (3) Strengthen neighborhood spirit and police-community partnerships; and  (4) Send a message to criminals letting them know neighborhoods are organized and fighting back.
This is a great opportunity to meet members of the Billerica Police, Paramedics, Firefighters, and DPW and get up close and see their emergency vehicles.  Magician Matias will be entertaining you this evening, sponsored by Lynnway Auto Auction of Billerica.  He is a proven, professional magician that has been awarded 2012-2013-2014 Best New York comedy magician.  Check his website out at www.magicianmatias.com   The Billerica Recreation department is featuring the 4EVER FAB, Beatles tribute band for the Concerts on the Common series.  The Billerica Public Library will be hosting their Annual Ice Cream Social.  U.S. Army National Guard Unit 211th Military Police Battalion will have Military vehicles for viewing.  The Middlesex County Sheriff's Department will have their Bear-Cat available for viewing and photo opportunities. The Billerica Council on Aging will be providing FREE popcorn for the evening.  Billerica and Local Police K-9 handlers will be conducting demonstrations.  The Billerica Police Honor Guard "GRILL TEAM" will be selling Hamburgers and hot dogs to help raise money for new equipment.
Any questions or interested sponsors please contact Lt. Commander Troy Opland or Lt. Greg Katz at 978-667-1212.
Join over 4,000 residents from Billerica on Nextdoor.com.   Nextdoor is a free, private social network for your neighborhood. Nextdoor makes it easy to communicate with your neighbors about the issues that matter most in your community. Over 64,000 neighborhoods across the country are using Nextdoor to:
Share recommendations about local services and businesses (e.g. babysitters, plumbers, dentists)
• Organize neighborhood events (e.g. National Night Out, Neighborhood Watch, HOA meetings)
• Report suspicious activities, help prevent crime and receive updates from city officials
• Create groups to connect with parents, pet owners and other neighborhood groups
• Get to know your fellow neighbors