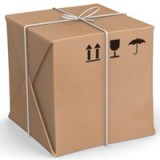 Package thefts are crimes of opportunity.  The Billerica Police Department would like to remind citizens to take extra care this time of year when having mail and packages delivered to their residence. Package thefts from doorstops and front porches during the day usually increase between the months of October and January. There are steps you can take to be proactive in keeping your package safe from theft.
Encourage family and neighbors to pick up packages as soon as possible after they are delivered.
Track your packages. Try to be present at the time of delivery. Many mail carriers allow you to track your shipment online or receive email or text messages once deliveries are made:
Thieves will follow or watch for FedEx, UPS, US Mail and other delivery trucks and then target a home after a delivery is made. To reduce the chances of being victimized by package delivery thieves, the Billerica Police Department offers the following advice:
Choose a shipping option that requires you to sign for delivery.
Arrange to have the package shipped to another location where someone can receive it. This could be your workplace, a friend or relative's home, the leasing office at your apartment complex or even the local "mailbox" business that may agree to accept shipment of your item for a fee.
Ask the delivery service to hold your package for customer pick-up at their local shipping facility.
If you do not receive your shipment on time, check with the company of origin and confirm the delivery. If the item was delivered and you did not receive it, report the theft or loss to the original company, the shipping company, and the Billerica Police Department at 978-667-1212.
Many of these crimes occur during broad daylight. As always, be alert about suspicious behavior in your neighborhood, especially if you see a delivery truck making the rounds and a vehicle following behind or unfamiliar subjects on foot. Be prepared to call the Billerica Police Department at 978-667-1212 to report this type of suspicious activity or call 911 if you observe a crime in progress.
Your calls can have an impact on crime and criminals. Please continue to partner to prevent crime.