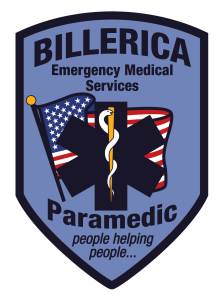 The Town of Billerica Emergency Medical Services (EMS)
Updated 5/6/11 – The Town of Billerica Emergency Medical Services  (EMS) is managed by Police Lieutenant Troy Opland. The unit has one Paramedic Supervisor, 11 full-time Paramedics and five per diem Paramedics who provide the town with twenty-four hour, seven days a week Advanced Life Support, paramedic ambulance coverage. During the fiscal year July 1, 2009 to June 30, 2010, the Billerica EMS Division received 2767 calls for medical assistance, transported 1895 people to area hospitals and trauma centers under emergency conditions. Out of town "mutual aid" ambulances responded to 116 of these calls. Private ambulances transported additional 24 patients to out of area hospitals. Billing for the ambulance service continues to be provided by a private vender, Comstar Ambulance Billing Service.
The EMS Division currently has three ambulances. One is staffed 24 hours per day, P15 is a 2009 Osage Type 3 ambulance and it currently has 42,000 miles. The second ambulance, P150, is a 2006 Horton Type 3 which has 100,000 miles and is staffed 12 hours a day 7 days a week. The third ambulance is a 2003 Horton Type 3 which has 124,800 miles. This unit is a reserve vehicle and is only being used as an emergency mechanical backup.
EMS personnel are maintaining the First Responder System with the Police and Fire Departments. Paramedics continue to recertify the Police Department in CPR training and the use of automatic defibrillators.
Ambulance Billing Collections were $1,050,000 for FY10.
Call Data:
| | |
| --- | --- |
| Total EMS calls | 2767 |
| Total Transports | 1895 |
| Assists | 104 |
| Patient Refusals | 405 |
| Triage to Private Ambulances | 24 |
| ALS/BLS Breakdown | |
| Advanced Life Support | 1143 |
| Basic Life Support | 752 |
| Call Type | |
| Medical | 1468 |
| Trauma | 427 |
| Mutual Aid | |
| In | 116 |
| Out | 123 |
| Hospitals Transported To | |
| Saints Memorial Medical Center | 546 |
| Lowell General | 249 |
| Lahey Clinic Medical Center | 999 |
| Winchester Hospital | 80 |
| Medflight / Others | 0 |
| Emerson Hospital | 18 |
| Transports Type | |
| Residents | 1502 |
| Non Residents | 393 |
---
Why does a Police Cruiser come when someone is sick or injured?
Primarily, a Police Cruiser is sent on a medical call as part of the "Chain of Survival". All police officers are trained as First Responders; some are EMT's and Paramedics. Police cars are equipped with first aide kits and automatic defibrillators. When a life-threatening condition occurs, such as Sudden Cardiac Arrest or severe injuries, minutes, even seconds make the difference. Nationally, a police officer is first to arrive at a medical emergency 80% of the time. In Billerica the police department has a close working relationship with the towns Paramedics. Additionally, the extra personnel help reduce treatment time by assisting the Paramedics, by setting up equipment and gathering patient information. There are times when both paramedics are needed to treat the patient(s) and an officer will drive the ambulance to the hospital.
What is the "Chain of Survival"?
The "Chain of Survival" is a concept developed by the American Heart Association (AHA). It includes the components or "links" that must be in place to increase a patient's chance of survival of sudden cardiac arrest. The Links include: Early Access to Care (Enhanced 911), Early CPR, Early Defibrillation/Basic Life Support and Early Advanced Life Support. The AHA has shown through research that the highest chances for survival happen when CPR and defibrillation are provided as soon as possible, followed by advance treatment by paramedics.