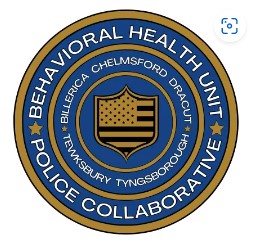 Behavioral Health Unit (A regional Police Mental Health Collaborative)
Since 2016, the collaboration between Billerica, Tewksbury, Chelmsford, Dracut and most recently Tyngsborough, has proven to be an undeniable asset to the region.  These resources are available to every resident in Billerica as well as any resident living in the five town region.  A general description of services are as follows:
Teletherapy
Phone Follow-up
Individual and Group Recovery Services
Case Management/Referral Services
Access to Crisis Care
General Support
Our Commitment is to serve our communities and provide direct connection to behavioral health and substance use services in a whole-person, trauma-informed way.  Our focus is on supporting you, the community. Our approach to this is three tiered: prevention, crisis response, and recovery.  Programming in these key areas provide access to clinical staff, peer support, and educational opportunities to all members of the communities we serve regardless of insurance, socio-economic status, gender identity, sexual preference, age, race, and there is no requirement that you are police involved.
Call Our Community Line for Local Support:  (978) 215-9642