A number of years ago the Billerica Police Department instituted a K9 unit to provide its citizens with an even higher level of community service.
The K9 is utilized for:
Drug detection
Vehicle searches
Building searches
Tracking and searching for lost individuals
Tracking and apprehension of criminal suspects
Evidence search and recovery
Officer protection
Community relations
The Billerica Police K9 Unit will accommodate requests for demonstrations as time and scheduling allows.
---
Active BPD K9's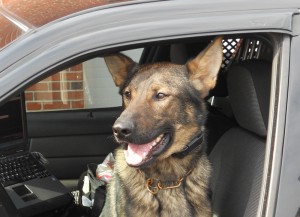 Yak is BPD's patrol dog. Yak resides with Officer Mark Tsoukalas at his home.  The team is on call 24 hours a day to respond to calls requiring the assistance of a dog team.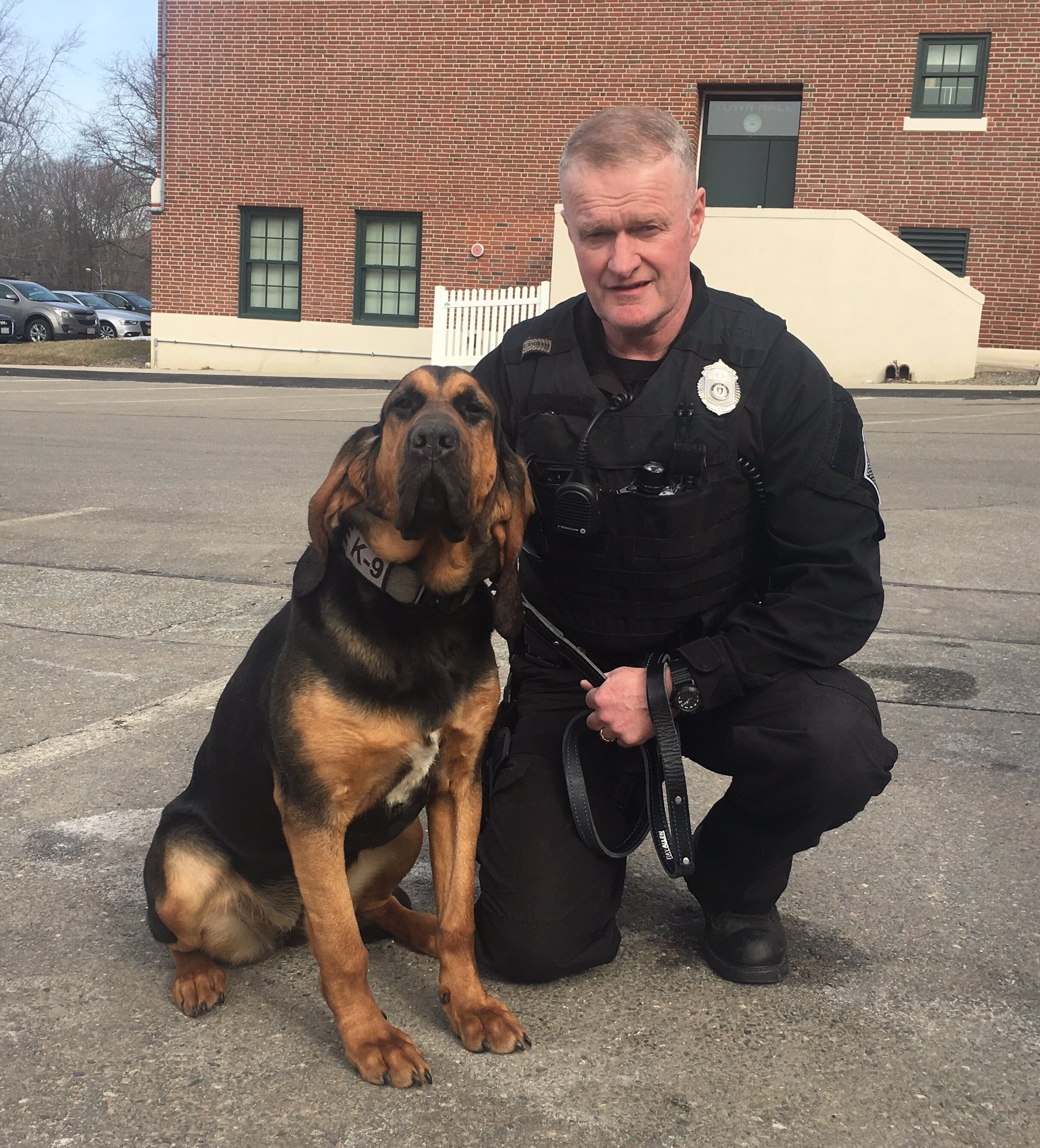 Cabot is BPD's newest K9 and is only 7 months old as of this writing (2/21/17). She was brought on with the help of a generous donation from Cabot Corporation after the untimely death of K9 Wizard.
---
Former BPD K9's
Wizard – Officer Don MacEachern and his K9 partner Wizard passed certification with the Connecticut State Police in December of 2015. The certification requires a bloodhound team to complete a one mile trail with a six hour delayed start crossing several different surfaces including pavement and areas of water. Wizard's tracking skills are be used to locate missing persons and suspects.  Wizard passed away in 2016 after complications from bloat.
Barek (Retired) 9/1/11 – Barek retired in 2011 and was replaced by K9 Yak.  Barek still resides with Ptl Tsoukalas and his family.  Barek served the department for over 8 years.
Rosie (Transfer) 2011 – After 2 1/2 years serving the residents of Billerica and the region, our trusty Bloodhound Rosie will be making a difficult career move and has accepted a position with the Union County Sheriff's Office K9 Unit in Pennsylvania.
In November of 2011 "Rosie" was donated to BPD by the New Hampshire State police.  NHSP happened to have a two year old female bloodhound that they offered to BPD after her predecessor, Diesel, passed away .  Rosie had been donated to NHSP but they did not have a handler suited for her.  BPD gladly accepted Rosie as our new Bloodhound.
Because her handler, John Harring, was  promoted to Sergeant he could no longer continue his K9 duties. During her time here she has proven herself as an excellent tracker and she will be missed by the entire region.  It is with mixed emotion that we say goodbye to Rosie but we know she will continue her effective mission with Union County.
Diesel 10/31/11 – At the end of October 2011 Diesel passed away.  It was discovered that Diesel had a serious illness (cancer) that resulted in his untimely death.   Diesel was approximately 6 years old. The department obtained him in February 2009 from the Riverside Bloodhound Rescue in Pennsylvania.  Diesel replaced Annabelle, Billerica's original hound.
Annabelle 1/20/09 – Our trusty Bloodhound Annabelle passed away due to gastrointestinal illness. We appreciate all the work she did not only for our department but the many others who she served. Thanks to Officer John Harring who put in countless hours of training in order to make Annabelle the great tracker that she was. Chief Dan Rosa
Annabell was was donated by 832's Deputy Dogs of Adel, Georgia. Please visit their site and learn about the wonderful service they provide to law enforcement agencies all over the country.
Annabell was an outstanding tracker and was responsible for the rescue of many individuals.  She passed before her time and is missed by BPD and all the residents she served.