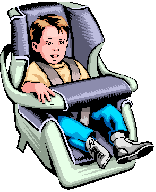 The Billerica Police Department is committed to child safety. As part of this commitment we offer our citizens a car seat installation service. There is no fee for this professional service and we encourage those who are unsure about car seats to schedule an appointment with our traffic division.
Appointments can be made by calling the police departments business line at:
978-671-0900
Please advise the dispatcher that you would like to schedule an appointment for a car seat installation. The contact for these appointments is:
Sergeant Martin Conway
Prior to arriving for your appointment we ask that you come equipped with the proper seat for the age and weight of your child.
For additional safety seat information please visit the National Highway Traffic Safety Administration website.