The Billerica Police Department has taken numerous reports this year involving scams amounting to thousands of dollars in losses to residents. Many of these scams involve the use of Green Dot MoneyPak cards, MyVanilla reload cards, Paypal prepaid cards and others.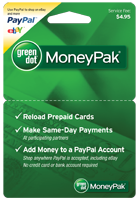 The Green Dot MoneyPak is a cash reload product that can be used to reload a prepaid debit card, add money to a PayPal account without using a bank account or to make same-day payments to major companies.
Green Dot Corporation, the maker of MoneyPak, warns consumers to only use their MoneyPak number with businesses on their approved list and if anyone else asks for your MoneyPak number or information it's probably a scam.
These are some common scams using MoneyPak cards as payment methods:
Grandparent Scam – Scenarios from the FBI
A grandparent receives a phone call (or sometimes an e-mail) from a "grandchild." If it is a phone call, it's often late at night or early in the morning when most people aren't thinking that clearly. Usually, the person claims to be traveling in a foreign country and has gotten into a bad situation, like being arrested for drugs, getting in a car accident, or being mugged…and needs money wired ASAP. And the caller doesn't want his or her parents told.
Sometimes, instead of the "grandchild" making the phone call, the criminal pretends to be an arresting police officer, a lawyer, a doctor at a hospital, or some other person. And we've also received complaints about the phony grandchild talking first and then handing the phone over to an accomplice…to further spin the fake tale
We've also seen military families victimized: after perusing a soldier's social networking site, a con artist will contact the soldier's grandparents, sometimes claiming that a problem came up during military leave that requires money to address.
While it's commonly called the grandparent scam, criminals may also claim to be a family friend, a niece or nephew, or another family member.
Utility Company – Scenario from AARP
The callers claim to be billing representatives from your utility company but are actually crooks looking for a quick payoff. They tell you that to avoid an immediate shutoff, you need to settle an overdue bill by providing them with your credit card number or a prepaid debit card (MoneyPak).
Internal Revenue Service Scam – Scenario from IRS
Victims are told they owe money to the IRS and it must be paid promptly through a pre-loaded debit card (MoneyPak) or wire transfer. If the victim refuses to cooperate, they are then threatened with arrest, deportation or suspension of a business or driver's license. In many cases, the caller becomes hostile and insulting.
Secret or Mystery Shopper Scam - Scenario from the Federal Trade Commission
You may have heard about people who are "hired" to be mystery shoppers, and told that their first assignment is to evaluate a money transfer service, like Western Union or MoneyGram. The shopper receives a check with instructions to deposit it in a personal bank account, withdraw the amount in cash, and wire it to a third party. The check is a fake.

By law, banks must make the funds from deposited checks available within days, but uncovering a fake check can take weeks. It may seem that the check has cleared and that the money has posted to the account, but when the check turns out to be a fake, the person who deposited the check and wired the money will be responsible for paying back the bank.

It's never a good idea to deposit a check from someone you don't know and then wire money back.
Tech Support Scam – Scenario from the Federal Trade Commission
The latest version of the scam begins with a phone call. Scammers can get your name and other basic information from public directories. They might even guess what computer software you're using. Once they have you on the phone, they often try to gain your trust by pretending to be associated with well-known companies or confusing you with a barrage of technical terms. They may ask you to go to your computer and perform a series of complex tasks. Sometimes, they target legitimate computer files and claim that they are viruses. Their tactics are designed to scare you into believing they can help fix your "problem."  These scams often ask you to give them remote access to your computer and then make changes to your settings that could leave your computer vulnerable. They may also attempt to enroll you in a worthless warranty or ask you for a credit card or pre paid debit (MoneyPak) so they can bill you for phony services.  In addition, you may even be tricked into installing malware on your computer or be directed to a malicious website.
In all of these scams the victim is often instructed to go to a local store and purchase green dot cards and call the suspect back.  The victim is then instructed to read the MoneyPak number(s) back to the suspect. This gives the suspect immediate access to the money and there is no way to recover it. Suspects often use phone numbers with an official looking caller ID to appear legitimate.
We encourage residents to report these crimes to the Police Department.