Warrant Issued For 7-Eleven Robbery Suspect – Update Arrest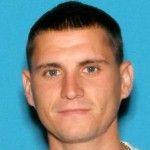 Update – Mr. Hughes arrested by Lowell Police on the evening of 5/8/12 – On May 7, 2012 at approximately 3am, the 7-Eleven convenient store located at 314 Boston Rd was robbed.  The video and a short description is available here.
Billerica Police Detectives and Patrol Officers worked with the 7-Eleven staff and were eventually able to successfully identify the suspect.
Today, an arrest warrant was issued for Christopher D. Hughes, 26, of 70 Cardigan Rd. Tewksbury, MA.  Prior to this incident Mr. Hughes was residing at 317 Boston Rd. Billerica. Mr. Hughes is charged with unarmed robbery and assault and battery.
Anyone that sees Christopher Hughes or knows his whereabouts is encouraged to call Billerica Police at 978-667-1212.