Billerica Police Department Escorts 100-year-old Retired Officer and World War II Veteran to Honor Flight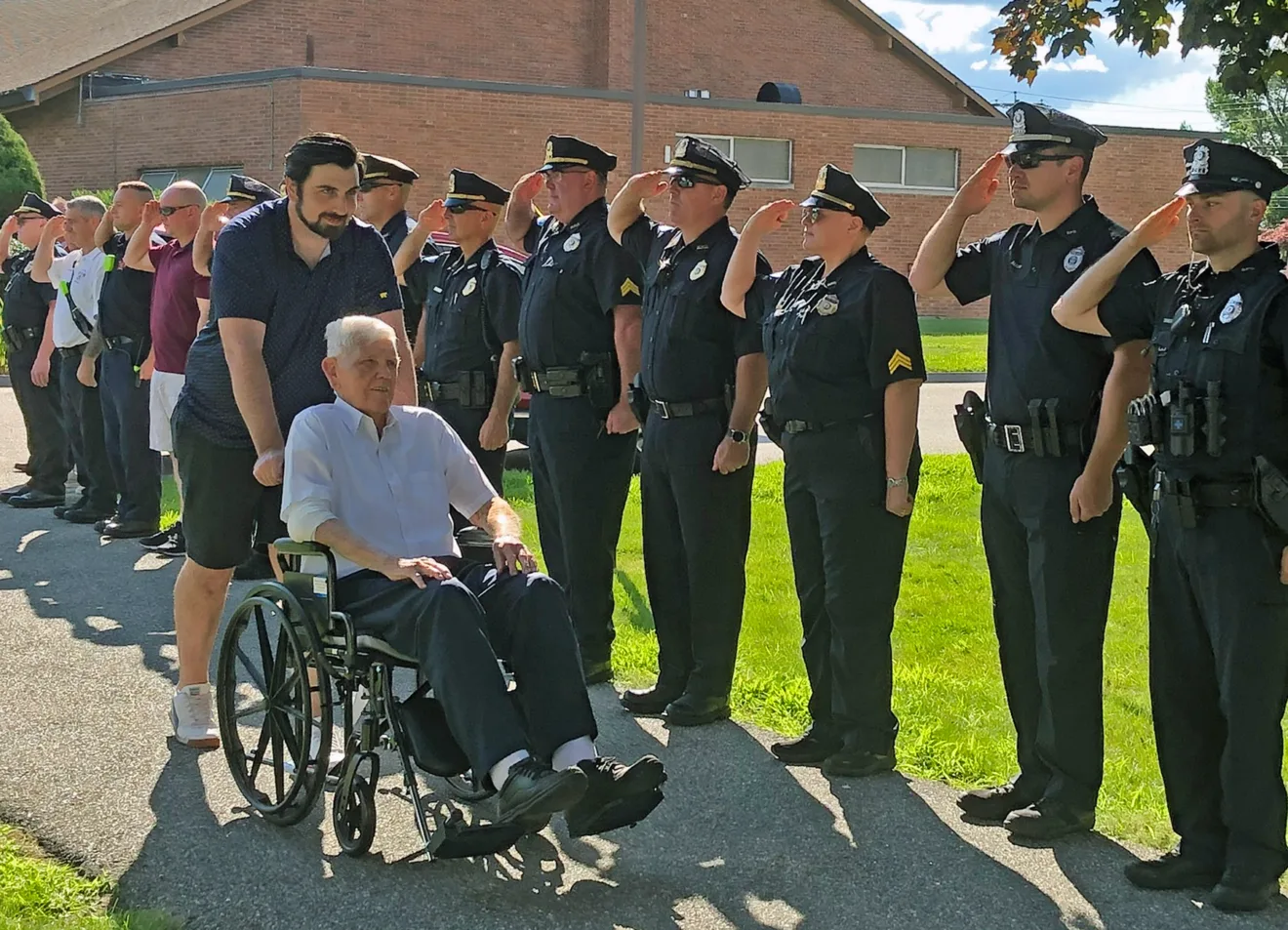 BILLERICA — Chief Roy Frost is proud to report that the Billerica Police Department escorted a 100-year-old retired Billerica Police Officer and World War II veteran to an honor flight to Washington, DC.
Retired Billerica Police Capt. Paul Holmes, who turned 100 in July, served with the Navy during World War II, from 1943 until the end of the war. He returned home to serve with Billerica Police from 1949 until 1986.
Holmes was invited by Honor Flight New England to participate in a no-cost honor flight with other veterans from Boston Logan Airport to Washington, DC. Billerica Police provided the captain with an escort from his home in Tewksbury to the airport, and back again. Billerica Veteran Agent Donnie Jarvis also provided assistance and went with Holmes on the flight at his own cost.
Retired Lt. Commander Troy Opland and Officer Mike Henckler picked up and dropped off Capt. Holmes before and after his flights. Tewksbury Police also provided an escort through Tewksbury in the early morning hours of Sunday as Capt. Holmes was driven to the airport.
Holmes and other veterans were greeted at both Logan and Dulles airports, and once in Washington they were able to tour the nation's monuments, courtesy of Honor Flight New England, a non-profit agency that takes aging veterans to tour the monuments free of charge.
During his years working in Billerica, Capt. Holmes was known for always walking to work and treating people with respect.
"There wasn't one kid in the neighborhood who didn't absolutely admire him," said Billerica Police Head Clerk Elizabeth Patriquin. "He was wicked tall, and wicked nice to all the kids in the neighborhood. He had a lot of respect for the Town and the people and they gave that respect back to him."
Retired Lt. Commander Opland said Holmes used to visit the police station after he retired and would converse with him and other officers for hours.
"He's just a really thankful, thoughtful person," Opland said.
Retired Lt. Commander Opland said he was proud to assist with the amazing flights offered by Honor Flight New England.
"I've never seen him so happy," Opland said of Holmes. "There's a tear in his eye in one of the pictures. It was just really cool to see that. He's just an awesome man."
"Retired Billerica Police Capt. Paul Holmes spent most of his life serving his country and his community, and we were proud to escort him to this well-deserved honor flight provided by a great organization," said Chief Frost. "The Billerica Police Department has the utmost respect for all veterans, and we wish Capt. Holmes all the best."
About Honor Flight New England:
Honor Flight New England joined with the national organization Honor Flight Network in the Spring of 2009, and is a non-profit organization dedicated to honoring America's most senior veterans. Through generous donations, Honor Flight New England transports heroes to Washington, D.C., to visit and reflect at their memorials at no cost to the veteran. Top priority is currently given to most senior Veterans, along with those other veterans who may be terminally ill. Beginning in the Spring of 2022, Honor Flight New England also began transporting Vietnam Veterans. To learn more about Honor Flight New England, visit: https://honorflightnewengland.org/.